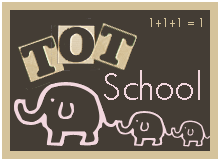 This week we started Tot School. It's not really anything that we don't already do but it makes me focus a little bit on him and make plans for things to bring out as apposed to waiting for it to happen. I didn't get any pictures of anything he did this week. I don't know why but I will be better next week!

We did do a lot though. He always asks me to read books to him a lot so we of course read lots of books. He also listens in when I read Farmer Boy. We worked with several of his activity bags, (which I plan to post more about soon). We played with puzzles and his Leapfrog refrigerator magnets. He played with his shape sorter toy and of course lots of others. He also helped me make bisquit mix. This boy loves to help me cook! Nathan put his train track together for him and he played with that a long time. He also started trying to get the tracks together on his own. He had a good week other than those pesky naps I keep making him take. ;)

OH and he liked hanging out like this!

He is showing me his shirt, if you couldn't tell. I don't know why. haha

If you want to see more about
Tot School
head over and check it out!